The Spanish school
don Quijote offers you a modern school, freshly renovated with equal focus on technology, comfort, lively on-campus student atmosphere and quality on Avda. de los Naranjos s/n. don Quijote Valencia is located on the campus of the Polytechnic University of Valencia, just 5 minutes from the old city centre and 5 minutes from the beach! Set amongst hundred of acres of new academic buildings, palm trees, and long, rolling lawns and sits alongside the student residence, Valencia's most modern and best equipped 'colegio mayor' and a home-away-from-home for those don Quijote students who choose student residence accommodation. The Spanish school in Valencia boasts 9 spacious classrooms, the academic zone surrounds a central common area of 100 square meters, equipped with a cof ee machine, snack vending machines, computers and comfortable furniture for relaxing between classes. The facilities include the most modern technology, presented in a cheerful and contemporary atmosphere.
About Valencia
Valencia, on Spain's eastern coast, nestles between the Mediterranean Sea, the mountains of the Sierra del Negrete and the plains of Castilla La Mancha. Spain's third largest city is home to paella, Europe's largest leisure complex and one of the most exuberant nightlife scenes in the country. This vibrant city offers a rich mixture of history and tradition which balances perfectly with its drive for modernity. The construction of the Ciudad de las Artes y Ciencias leisure complex has put Valencia firmly on the world's cultural map. Boasting an opera house, planetarium, botanical gardens and Europe's biggest marine park, there are endless cultural activities to enjoy. And of course, Valencia's beach is a lively place to soak up the sun and enjoy the waves. Whatever you look for in a city, Valencia will exceed your expectations.
Our opinion
Valencia is the ideal place to study Spanish because its privileged location on the Mediterranean coast. You will enjoy a perfect climate all year round. Thanks to its kind inhabitants, you will immediately feel at home. Valencia has an international airport that connects the city with the rest of the world. A language trip to this modern city is sure to meet your expectations.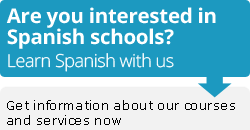 What our teachers are saying...

Mila de la Cruz
Head of Studies

Valencia is a modern, open city, full of light and color because of its privileged location beside the Mediterranean sea, but also within easy reach of the mountains (just 20 km away). These days the two most popular attractions are The City of Arts and Sciences, one of the largest leisure and cultural centers in Europe, and the lively Fallas. But Valencia is not just about Fallas: it has not stayed rooted in the past, or even the present. So may I welcome you to Valencia, and invite you to discover and share not only the language, but also everything the city and we, its people, can of er you.