The Spanish school
Our Spanish school in Tenerife is located in a traditional Canaries building, on Avda. de Colón 14, just 5 minutes walk from the Martiánez Beach, 2 minutes from the famous 'Lago Martiánez' and 10 minutes from the City Hall. The school has 7 well lit classrooms, a teachers' room, a patio, oi ce, multimedia classrooms, and a recreation area with television, hi-i , library and DVDs. Due to its magnii cent location you will be just minutes from beautiful beaches and recreational opportunities.
About Tenerife
Puerto de la Cruz is the second largest tourist city on the island with accommodation for around 30,000 tourists. In contrast with the modern resorts of the south, El Puerto has had a great tradition as a place of relaxation since the end of the last century when the spa, which today is the Hotel Casino Tauro, was built.
The lushness of the gardens and the agreeable atmosphere are very special features of this city, which has lively places to stroll around. In the evening the streets near the Plaza del Charco and the promenade are pleasant places of enjoyment where one can eat at any of the many open air restaurants, all this in a pleasant climate and with the ever present sea.
One of the greatest attractions of el Puerto is without doubt the Lago Martianez. This series of seawater pools conceived by the Canary artist Cesar Manrique forms an extraordinary spot for bathing and resting in the sun. Besides the Lago, Puerto de la Cruz has small beaches of volcanic sand, the best ones being Playa Jardin and Martianez, on the outskirts of the city.
Our opinion
The international attractions, excellent restaurants, cafés and other facilities of Puerta de la Cruz all contribute to its busy air. The island has good transport connections, especially with the Spanish peninsula, by sea and air links.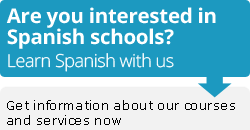 What our teachers are saying...

Salomé Torres
Head of Studies

Tenerife is much more than sun and beaches, it is cultural diversity and above all it is Spain's bridge to Latin America. You will live its pleasant temperatures as you forget about winter and enjoy the sun from every corner. You will enjoy the musical accent of its people, reminiscent of the 'Guanches' who inhabited the island long ago, and marvel at the magnii cent Teide volcano, which seems to guard the island from the heights. Once you have arrived, you will i nd it hard to leave.