Who will you meet?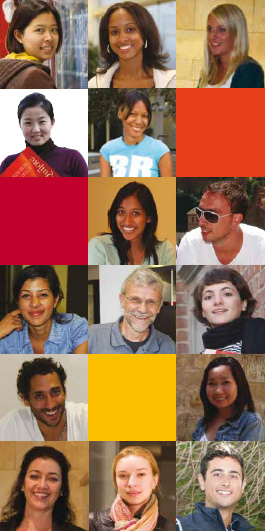 Aged 14 to 83, from all corners of the world and with all sorts of reasons for studying Spanish. More students choose don Quijote based on a personal recommendation than through any other source. We invite you to do the same! On the next page you will meet a small group of students – some of whom have returned to study with us 4, 5... even 8 times. They've all expressed their willingness to help you choose a language school, a course and a destination by sharing their own experiences.
Find someone who shares your native language, or your age or your motivation for studying Spanish and get the most valuable information you can use to make a decision: a personal recommendation.
Our Spanish students differ greatly in age, origin, cultural background and in their reasons for learning Spanish. We believe that these differences add value to your Spanish course. Quite often, the way of life and the cultural aspects of our students are the subject of lively discussions during the classes. To sum things up:
The age of our students varies from 14 – 83 years.
Our students come from more than 65 countries.
95% of our students come alone.
30% of our students have no knowledge of Spanish before the start of their course.
The reasons our students have for studying Spanish are as diverse as our supply of courses: One wants an active four-week summer holiday and another wants an intensive preparatory course for the Offi cial D.E.L.E. exam, while yet another wants tailor-made individual language training due to a lack of time, and others have plenty of time available to spend doing a long-duration Spanish course.
My fourth time!
This is my fourth time I've been with don Quijote. I decided to come back here because the classes are interesting and useful for learning the language well, and the teachers are friendly and anxious to help the students. I definitely recommend don Quijote.
Open and lively environment!
My stay at don Quijote was brilliant, and not only because of how much the Spanish language impressed me with its fascinating energy. I worked in a German company in the morning and went to class in the afternoon. I'm very happy to have chosen this school with its open and lively environment where I felt really at home. I was very pleased both with the course and with the method of teaching. Thank you for your professional help.
Students from all over the world!
My experience at don Quijote was one of the most challenging and enjoyable I have ever had. The classes were intensive and interesting. There were students from all over the world from ages 21-83! This gave me the chance to experience different cultures.
A valuable and memorable experience!
I completed the don Quijote program Spanish Language + Internship and I had the most delightful and fulfilling experience of my life. I spent 6 fantastic weeks improving and polishing my Spanish in the unique international atmosphere of the school where teachers were brilliant, I was feeling very at home and made a lot of friends. I also spent 12 remarkable weeks working for a Spanish company in Barcelona which was carefully selected by the school and suited to my skills and desire to apply my professional background in a challenging new environment. I gained valuable and memorable experience.
Great service!
The service at don Quijote was great! Before I went to Spain they contacted me and sent me all the information I needed. I was very nervous when I first arrived in Barcelona, because I was alone and it was the first time I was going to live abroad without being close to my friends or family. But there was someone from don Quijote waiting to meet me at the station and take me to my new home. At the school I got all the help I needed from the teachers and the other students. I'm really grateful to all of them.
Excellent teachers!
don Quijote's main strength is undoubtedly the teachers, who are all experts in maximizing every class moment, and totally tuned in to each student's needs. Many thanks!
Efficient way of teaching!
I've spent one month in Madrid and another month in Barcelona. I'd like to say that I had a great time at don Quijote in both cities. The teachers and the way of teaching are very efficient. Besides that, the infrastructure of the school is amazing. Thanks for providing an outstanding stay in Spain!
Home stay: Spanish to the maximum!
A friend of mine, who has been a regular student of don Quijote for a couple of years already, informed me about the language school two years ago and
I am very happy she did. I decided to stay in a Spanish family, giving me the opportunity to be in a typical Spanish environment all the time.