The Spanish school
Our Spanish school in Salamanca is located in the heart of the old city center just 100 meters from the famous University of Salamanca and just two minutes away from the magnii cent Plaza Mayor. The school is a beautiful restored 16th-century monastery. The modern materials used for the renovation create a natural balance with the richness, style and elegance of previous centuries. You enter the school through a lovely courtyard. This courtyard and the garden divide the school into three parts: the oi ces, the cafeteria and the classrooms. The main building has three l oors, 17 classrooms, a recreation room (with computers, DVDs, sound system, etc.), a library, a staf lounge and three oi ces. Wireless internet access is also available in the school and café.
About Salamanca
The province of Salamanca is situated in the west of Spain on the border with Portugal. The city is large enough to be able to offer the advantages of a real city, but at the same time it keeps the intimacy of a town. In Salamanca, the inhabitants speak the "purest" Spanish in Spain - Castilian. For this reason Salamanca is enormously popular with people all over the world who want to learn Spanish. Contacts are made easily. You don't have to make rendezvous as you are bound to see everyone in the Plaza Mayor, one of the finest squares in Spain and known as the living room of the Salamantinos. As there is such a varied range of nationalities, it is tempting to keep to fellow don Quijote students. Salamanca is however, a real university city, Spanish students are everywhere and you can go practically everywhere on foot.
Our opinion
As a typical university city, Salamanca attracts thousands of students from all over the world. You note this university character in the appearance of Salamanca's streets and in the many pleasant cafés and restaurants. Salamanca is not just a student city, however. You will have an abundance of architecture and art to see, and plenty of opportunity to discover the surrounding countryside. Putting it all together, you have a city where the young and the not-so-young will both feel at home.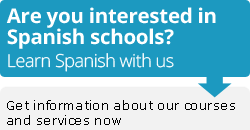 What our teachers are saying...

Jesús Baz
Head of Studies

On behalf of all those who work here, I would like to warmly welcome you to the magical city of Salamanca. Magical, because here you i nd the ideal elements for your course: an agreeable, peaceful environment for studying combined with endless possibilities for an exciting night out after a long day of classes. Salamanca, long famous for its cultural atmosphere, was designated a European Capital of Culture in 2002. Visitors to Salamanca remember the city for its educational institutions, its streets bursting with life (there are more than 50,000 young people studying at the university), its pure Castilian. In short, this city is something special. We hope to see you soon!