The Spanish school
don Quijote Granada occupies an entire five-story building. The Spanish school in Granada is light and airy, with lots of windows and balconies overlooking the street. The atmosphere at the school is intimate and relaxed. The building is centrally heated and air-conditioned–both indispen sable features in Granada, where summer and winter temperatures can be extreme. Just like all other don Quijote schools, don Quijote Granada is equipped with modern teaching aids such as computers and audio-visual equipment. The recreation room is on the lower level. Here, you can watch TV or a DVD, listen to music, read books or newspapers, play board games or darts, etc. The school is located in a safe, quiet area in the city center, on c/ Azhuma 5, just a stone's throw from the cathedral and within walking distance of the Alhambra, the Albaicín and the Conference Center. Buses depart not far from the school almost every hour for the Sierra Nevada and the Mediterranean coast.
About Granada
Granada is the capital of the province with the same name, situated in the eastern part of the region of Andalusia. Geographical and scenic diversity characterizes the area. There is the coastal area with its warm climate and the mountainous regions with a colder climate, where you will i nd the 3,481 meter Mulhacén, the biggest peak on the peninsula of Spain. The city of Granada is located at the foot of the sierra Nevada mountains. Its unique history gives it an artistic grandeur embracing Moorish palaces and Christian Renaissance treasures.
Our opinion
You will meet flamenco dancers, guitarists and thousands of other students in the streets. That makes the city especially lively. Granada is an excellent choice if you want to get to know Spanish student life and real Spanish traditions. Because of its location, Granada is also a paradise for lovers of nature, sport enthusiasts (skiing!) and sun-worshippers.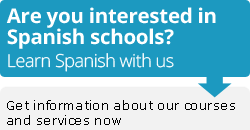 What our teachers are saying...

Laura Ruíz
Head of Studies

Granada is not just the Alhambra, the Albaicín or the Royal Chapel— it's a path that leads to the history of the Moors, the Romans and the discovery of America, and brings us to a dynamic, modern, youthful present (the city is home to more than 60,000 students). Granada is colour: the blue skies and the sea, the white snow and the green fertile plain. But Granada is especially people: a lively, simple and hospitable city. Those who want to experience Granada's charm must come and stay for a while.