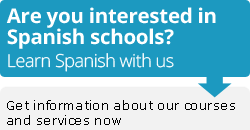 You can choose from an exciting variety of Spanish schools in Spain located throughout the country's diverse cultural and geographical landscapes. We have carefully selected destinations that we feel best highlight Spain's dynamic allure. Each school setting offers its own unique flavor, and you are encouraged to take time in deciding on the city or cities that you feel best suit your interests.
Click on the images of these destinations and you'll also find detailed descriptions of the Spanish schools themselves. All school buildings have also been carefully selected to provide a comfortable study environment in modern facilities that often showcase local architectural style.
Imagine learning Spanish in a sunny beach location, a cosmopolitan city, a historic town with stunning monuments that tell tales of Spain's fascinating past or a destination that is famous for its lively festivals.  We invite you to explore all of these possibilities for your unforgettable Spain experience.