The Spanish school
The school building is spacious, with 2600 square meters generously spread over the 3 lower l oors of a modern building. The school of ers more than 55 bright and airy classrooms with a total surface area of 2000 square meters. Our Spanish school in Barcelona also of ers 600 square meters of common areas, including a large interior patio, which looks out through a glass wall onto the school's expansive private garden, complete with trees and terrace. The central interior patio of ers comfortable seating and more than 20 computer terminals, making it a great stop for easy and free internet access from our terminals or linking up your own laptop to the school's free Wi-Fi. The patio is a popular spot to relax between classes while enjoying a drink or snack from the vending machines stationed throughout the school. Learn Spanish in Barcelona, where the don Quijote school's architectural details are top notch, including marble l oors throughout the common areas and beautifully i nished wood l oors in the classrooms. In summary, the don Quijote Barcelona is not only big, but bright and comfortable, with a touch of luxury. There is no language school of this size and caliber in all of Europe!
About Barcelona
In a privileged position on the northeastern coast of the Iberian peninsula and the shores of the Mediterranean, Barcelona is the second largest city in Spain in both size and population. There are two oi cial languages spoken in Barcelona: Catalan, and Castillian Spanish. Barcelona is unequivocally a Mediterranean city, not only because of its geographic location but also and above all because of its history, tradition and cultural inl uences. The city has truly l ourished again since the Olympic games came to town in 1992. It has undergone huge development and is a massive draw for visitors from all over the world - both to study and to live.
Our opinion
Clearly, the city has a cosmopolitan character. Some students may i nd it challenging to adapt to that character right away, and may choose to spend some time studying in a smaller city before heading to Barcelona. That said, most students do quickly feel at home in Barcelona. And rightly so, because Barcelona is an experience in its own right.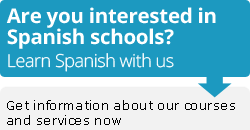 What our teachers are saying...

Demetrio Sánchez
Head of Studies

Why learn Spanish? Where? Barcelona? Why? The Ramblas, the Barceloneta, the Güell Park, the Sagrada Familia, Gaudí, Dalí…. But all that is not enough without human warmth, without people. My colleagues and I know this from our experience, which is why we want to of er you our personal side as well as our professional side as much as possible. We are people who work with people, and when we give classes in Spanish we try to make friends. The decision is yours.