The Spanish school
Our Spanish school in Madrid is a historic building recently renovated to provide the most modern amenities. Located on c/ Duque de Liria 6, next to the Liria Palace, the Madrid residence of the Duchess of Alba and a beloved green island in the heart of Spain's capital city. On foot, the school is 5 minutes from the Plaza de España and the Gran Vía. 38 bright and airy classrooms, 2 conference rooms, accommodating 100 guests and 70 guests, respectively and other school facilities are spread through 1,800 square meters in the 3 lower l oors. The school also of ers common areas, including a comfortable seating area where you will relax between classes or chat with friends while enjoying a drink or snack from the vending machines stationed throughout the school. A state of the art computer room of ers you easy and free internet access at one of our 20 computer stations or by simply logging on to the school's free Wi-Fi network, if you choose to bring your own laptop to Spain. Background music available in the entire school. For your year round comfort: centralized heating and air conditioning throughout the building. Facilities are fully adapted for handicapped students and visitors.
About Madrid
The capital of Spain, located in the heart of the peninsula, has a population of over three million. A cosmopolitan city, a business center, headquarters for the Public Administration, Government, Spanish Parliament and the home of the Spanish Royal Family, Madrid is characterized by intense cultural and artistic activity and a very lively nightlife. Captivating, enticing, and increasingly a hotbed of cultures and nationalities. While Madrid is a center of international tourism, it retains its unique Spanish charm. A city that is bursting with energy, the longer you spend in Madrid, the more it will enchant you. Stunning architecture and impressive monuments abound, but it is the people and personality of the capital that are most impressive. With a multitude of typical bars and cafes on every street corner, time spent in Madrid is a time of discovery, that will leave you wanting to explore its hidden depths.
Our opinion
Madrid is the most cosmopolitan of cities, combining the very best features of any notable European city. There is a fully interactive atmosphere, huge green areas and a continuous l ow of business people and students. Madrid is well worth visiting and getting lost in if you enjoy a unique experience.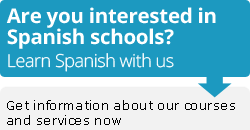 What our teachers are saying...

Pedro Sánchez
Head of Studies

Welcome to Madrid, capital of Spain since 1562. Madrid is a city of impressive monuments and diverse culture of erings: museums, parks, art galleries. Famous for its vivid nightlife, the city makes it easy to i nd theatres and discotheques sharing the long Madrileño night with bars reminiscent of the Madrid of the old Austrian Dynasty. The hospitality and warm character of its people will make it easy for you to make new friends. We are waiting for you to share this marvellous experience.